Other Giant Stories

Another giant was called Bolster and he was so tall that he could stand with one foot on St. Agnes Beacon and the other on Carn Brea, 6 miles away.
He was in love with St. Agnes, although it wasn't reciprocated, and he used to follow her around like a love-lorn puppy, wasting no opportunity to proclaim his love for her. To escape his unwanted attentions she asked him to prove his love for her by filling a hole in the cliff with blood from his body. He readily agreed and using a knife, cut a vein in his arm. He didn't think it would take too long to fill the hole but what he didn't realize was that the hole was bottomless and his blood was pouring out into the sea. Soon he fainted and unable to stop the bleeding, he died. Even today a trail of red marks the place where the giant's blood flowed.
The same sort of thing happened at Goran, near Mevagissey, when a giant who was terrorising the neighbourhood became ill. The doctor who came to treat him told him that he should be bled, a common treatment in those days, and that he should fill a hole with his bad blood. The giant felt better at first, when the bleeding started, but then grew weak. The doctor seized his chance and kicked him over the cliff. The place where he fell is now known as Dodman, or the Deadman.

Various places throughout the county have names relating to giants, such as Giant's Well, Giant's Coffin, Giant's Table, Giant's Round and Giant's Quoit.
Giant's Well, which is also known as St. Agnes Well, in Chapel Porth was where Bolster stopped to drink and left the imprint of his fingers on one of the stones.
Giant's Round is where Bolster was buried.
Giant's Quoit is the alternative name for Lanyon Quoit and it is said that the body of a giant is underneath.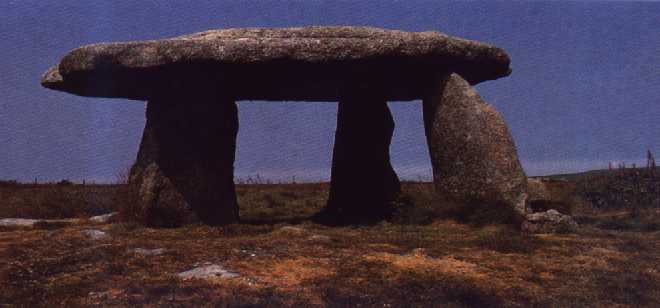 Lanyon Quoit, near Penzance

On Carn Brea hill near Redruth is Giant's Head, Giant's Wheel and Giant's Cradle all the traditional property of John of Gaunt, one of the last giants.
Trencrom (Trecrobben) Hill was the site of a giant's castle in the middle of an area overrun by giants. They liked to play games with rocks which they threw at St. Michael's Mount. The Bowl Rock, (half a mile north from St. Ives) is just one of their bowling balls.
One nasty giant was the Giant of Nancledra who was said to swallow children whole!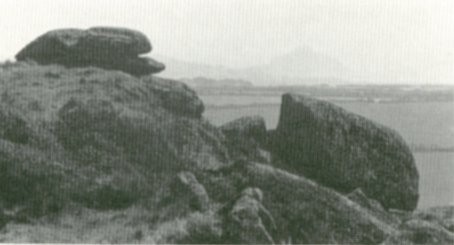 Trencrom Hill with St. Michael's Mount in the background.

At Portreath, a coastal cave was known as Ralph's Cupboard, lived a giant called Wrath and he would capture fishing boats, tie them to his belt and pull them into his den. The sailors on these boats would be his dinner if they were fat enough, the thin ones he would throw away. If the boats were too far out for him to reach he would throw rocks to make them sink and there is now a reef of these missiles, that stretches from Godrevy Head. The roof of the Cupboard fell in after Wrath's death leaving an open gorge into which the sea flows at high tide.

Bedruthan Steps are said to be the stepping stones of the giant Bedruthan even though they seem to go nowhere. They are weathered rocks that stand isolated from the cliff amid the sand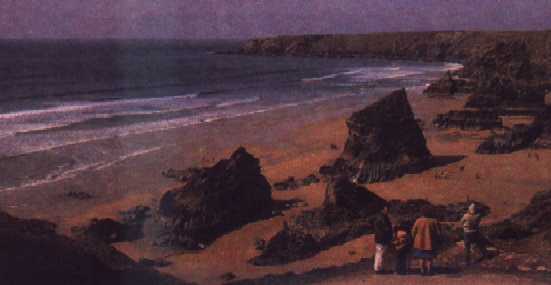 Bedruthan Steps

Although quoits are probably prehistoric burial grounds, locally they are thought of as being playthings of the giants. Any marks dented in them are said to be fingerprints.
In Tregony in 1761 a coffin was unearthed which was 11 feet long . Although the contents crumbled to dust, a tooth measuring 3ins survived, proof maybe, that giants really did live in Cornwall.