Lost Lands
Between the Scilly Isles and Lands End is the most famous 'lost land', that of Lyonesse.
This wasn't just a town but a whole country with large cities and 140 churches. Then in 1099 a terrible storm blew up and the entire country was submerged under a deluge of water. Everyone was drowned except one man, Trevilian, who rode a white horse to safety before the water could reach him.
It is rumoured that the present Scilly Isles are actually the hill-tops of the old country and there is documentary evidence to support this, with stone walls and huts discovered below the high-tide mark.
A writer from the 16th century suggested that Lands End stretched much further to the west and had a watchtower at the far end to guide sailors. The rocks known as the Seven Stones were thought to be the remains of a great city called 'The Town' and sailors told tales of catching windows, doors and other household items in their nets. They also claimed to have heard the church bells ringing beneath the waves.
Even in these more enlightened years people claim to have heard bells and seen church spires when standing on the cliffs at Lands End. Whether it is wishful thinking or reality it is worth a visit on a stormy night just to see.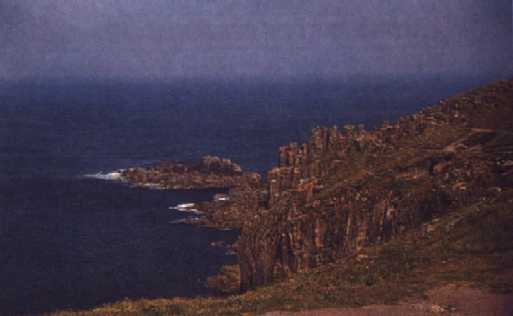 The Cliffs at Lands End

Between Crantock and Perranporth there was a great city with seven churches called Langarroc, which it is said was buried in the sand and sea after a huge storm over 1000 years ago. It was a place of great wealth and importance but it was also used as a penal colony. Eventually the local girls married and bred with the criminals, bringing about the degredation of the local stock. The storm lasted for three days and nights and the residents of the city perished as a punishment for their 'wicked ways'.
On a stormy night it is still possible to hear the cries for help and the pealing of the church bells!
In fact a small chapel dedicated to St. Piran circa 450AD, was excavated in 1835 and it was claimed to be the oldest extant building of worship on mainland Britain, second only to Iona Abbey.
For a long time workmen struggled to clear it of sand and to drain the water out but it has now been reburied, to protect it, and all that marks the spot is a stone with the words 'St. Piran'.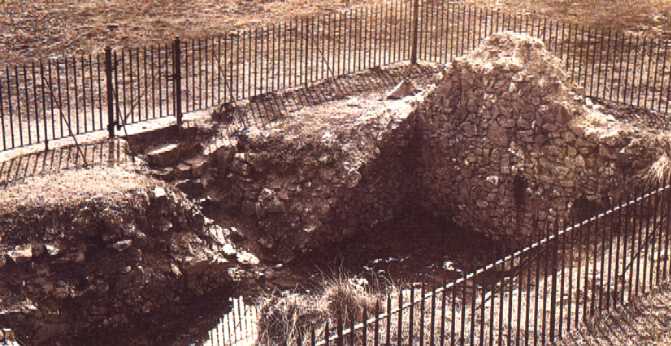 St. Piran's Oratory in about 1900 before it was reburied