Stories That Don't Fit Anywhere Else
Ghosts
Several places in Cornwall are haunted. These are just a few of the more interesting tales.
At Polperro a cave called Willy Willcock's Hole in Chapel Cliff is haunted by a fisherman who got lost in the maze of tunnels and who is still trying to find his way out.
Also named from a ghost is a rock near Lands End. A boat coming from Ireland was shipwrecked with only one woman survivor. She sat on top of a rock waiting to be rescued but due to the high winds and the stormy seas no one could reach her. After 5 days she died and her body was washed away. Afterwards when the waves were high, fishermen would see her sitting there with a rose in her mouth and named the rock The Irish Lady.
At Porthcurno, when evening mists were rising, a black ghostly square-rigger was said to come in from the sea and glide up over the sands to pursue its course across dry land; many people were said to have seen this ship which foretold misfortune.
In Sennen Cove storms would be predicted by the Whooper (named from the noise it made) when a blanket of fog came down and prevent the fishing boats from leaving the harbour.
Jesus
Tradition says that the church of St. Anthony at Place was once a Celtic monastery whose history is written between the two rows of dog-teeth on the south door. Translated roughly it says that Jesus visited here when his uncle (Joseph of Arimathea) came to trade for tin. When the boat was off St. Anthony Head there was a storm and they took shelter in the little bay below Place Manor. While the boat was being repaired they camped here and left behind a shrine. Some years later a church was built on the site.
St. Anthony-in-Roseland, behind the Manor, was one of the first churches to be dedicated in Britain. It was then the priory and convent of St. Mary-de-Valle and was built on the site of an earlier Celtic monastery.
The Devil
Local legend suggests that Helston was once the home of fiery dragons and of the Devil himself.A large block of granite built into the west wall of the Angel Hotel in the main street is said to have blocked the entrance to Hell. The stone was thrown at St. Michael by Satan but missed him and landed in the courtyard of the old inn thus giving Hell's Stone its name.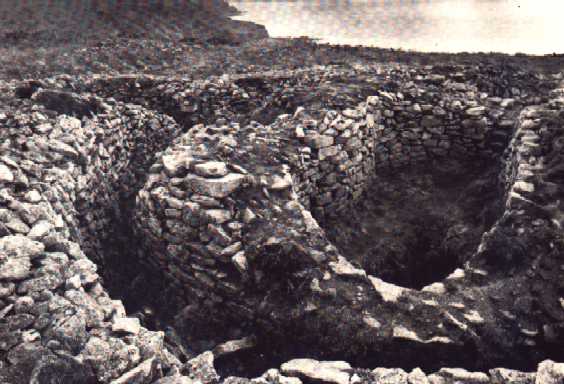 Carn Gluze
Carn Gluze, 1 mile west of St. Just, is an extremely unusual site with a sinister reputation that is best avoided at night.
A dome of earth, standing over 10 feet high, surmounts and seals off a deep T-shaped pit, possibly a symbolic entrance to the Underworld, used for rituals honouring the Underworld powers.
Originally it was a burial chamber dating from 4000BC and developed over the years, with new chambers being added when required.